Deutsch/English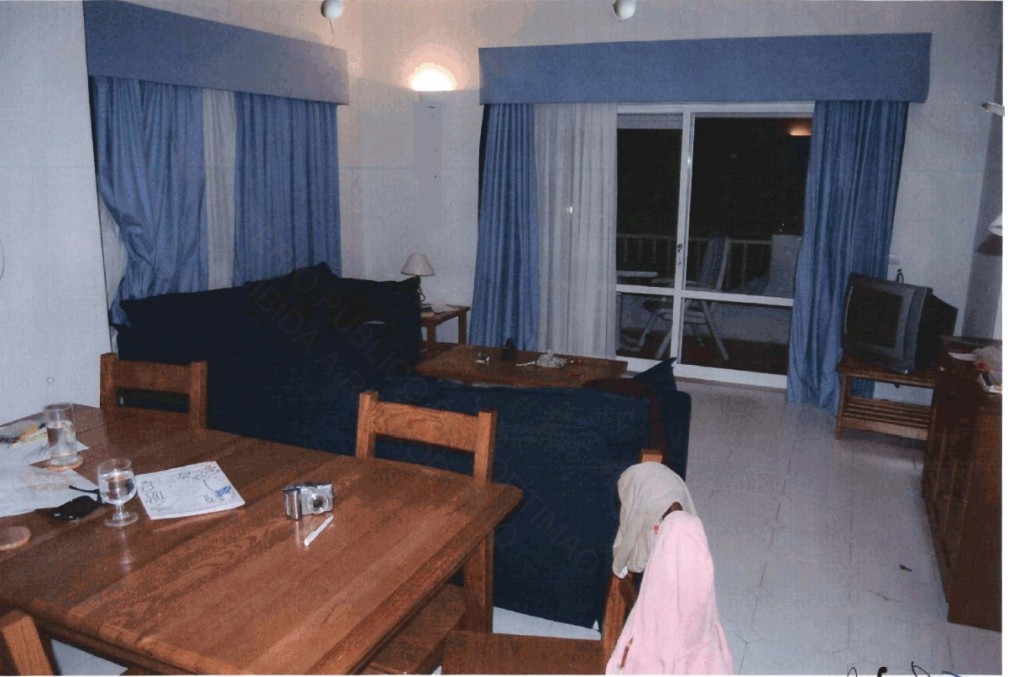 Es wird allgemein angenommen, dass Madeleine beim Versuch aus dem Seitenfenster des Apartments nach einem Elternteil zu schauen, vom Sofa stürzte und dort starb, da hinter dem Sofa die einzigen "Körperflüssigkeiten" entdeckt wurden und beide Hunde dort anschlugen.
In der Nacht in der ihr Verschwinden bekannt wurde, war das Fenster mit Rolläden verschlossen und alle Gardinen waren zugezogen. Warum sollte sie dort die Lehne erklettert haben um hinaus zu sehen? Das Fenster musste also nachträglich verschlossen und das Sofa an die Wand gerückt worden sein. Warum aber sollte sie überhaupt versucht haben aus diesem Fenster zu schauen? Wenn sie, wie die Polizeiuntersuchung vermutete, aufgewacht war und ihre Eltern suchte, vielleicht milde sediert worden war, würde sie doch mit Sicherheit zur nicht verschlossenen Verandatür gehen und sie versuchen zu öffnen um von dort einen Blick auf das erleuchtete Tapas Restaurant und evtl. ihre Eltern zu erhaschen.
Das Seitenfenster, das auf die Straße hinausgeht, die die Eltern nehmen würden, wenn sie zur Vordertür hinausgegangen wären um zum Tapas Restaurant zu gehen, wäre nur dann interessant, wenn jemand dort gerade vorbeiging oder dort stand. Wenn man voraussetzt, dass die Eltern das Apartment Abends nur verließen wenn alle Kinder schliefen, gibt es nur zwei Möglichkeiten, wann dieser Umstand gegeben war. Wenn jemand unter dem Fenster stand und sich unterhielt oder wenn gerade jemand das Apartment verlassen hatte und unter dem Fenster vorbeigehen würde.
Lt. erstem Szenario hörte Madeleine ihren Vater am Donnerstag Abend vor dem Fenster mit Jez Wilkins sprechen und versuchte ihn vom Fenster aus zu sehen. Gerry war aber keine 2 Minuten zuvor im Apartment gewesen und hatte sie angeblich tief schlafend dort gesehen. Und laut seiner Aussage stand er ja auch gar nicht unter dem Fenster, sondern 20 Meter weiter die Straße hinunter bei seinem kurzen Plausch mit Jeremy Wilkins. Glaubt man Jeremy Wilkins Aussage, hätte der Plausch ebenfalls nicht unter dem Fenster sondern in der Nähe des Gartentörchens stattgefunden. In diesem Fall wäre die Verandatür ebenfalls die wahrscheinlichere Alternative für Madeleine gewesen sich ihm bemerkbar zu machen wäre sie in der kurzen Zeit aufgewacht.
Im zweiten Fall war Madeleine noch gar nicht am Schlafen und eine Person war noch im Apartment (wenn wir die Prämisse aufrechterhalten, dass beide Eltern das Apartment nur verließen wenn alle Kinder schliefen). Dieses Szenario passt zum Mittwoch Abend, als Gerry bereits im Restaurant gesehen wurde und erzählte, Kate müsse noch die Kinder ins Bett bringen. Kate war also noch im Apartment und Gerry hatte gerade das Apartment durch die Vordertür verlassen um zum Tapas Restaurant zu gehen. In diesem Fall ging er die Strasse unter dem Fenster entlang und Madeleine hätte einen Grund gehabt aufs Sofa zu springen um ihn zu sehen.
...........................................................................
It is generally alleged that Madeleine died by a fall from the sofa while looking out of the side window of the apartment for one of her parents because behind this sofa the only "bodily fluids" were detected and both dogs alerted to that spot.
The night her disappearance became known the window was closed with shutters and all curtains were drawn. Why should she have climed the sofa to look out of the window? The window must have been closed later on and the sofa been pushed to the wall. But why would she have tried to look out of this window? If, as the police investigation suspected, she woke up, possibly mildly sedated, and looked for her parents, why did she not go to the open patiodoor, try to open it and get a glimpse of the lighted Tapas area where her parents were dining?
The side window that opens onto the street the parents would take if they had left via the frontdoor on their way to the Tapas Restaurant would only have been interesting to her if somebody was standing there or would just be passing. If we presume that the parents only left the apartment at night when all children were asleep, there are only two possible incidents when this circumstance was given. When somebody was standing and talking under the window or when somebody had just left the apartment and was about to pass under the window.
Regarding the first scenario Madeleine heard her father talking to Jez Wilkins on Thursday night in front of the window and tried to catch a look at him. But Gerry had only been in her room 2 minutes previously and had allegedly seen her sleeping deeply. And according to his statement he was not standing under the window at all, but 20 metre further down the road while chatting to Jeremy Wilkins. If we are to believe Jeremy Wilkins statement the chat did not happen under the window as well, but in the region of the patio gate. In this case the patiodoor would have been the logical choice for Madeleine to have tried to contact her father had she woken up in this short space of time.
Regarding the second scenario Madeleine was not yet asleep and one adult was still in the apartment (if we keep the premiss that both parents only left the apartment when the children were sleeping). This scenario fits Wednesday evening when Gerry was already at the Restaurant informing Jeremy Wilkins that Kate was still in the apartment trying to get the children to bed. Kate was still in the apartment and Gerry had left the apartment via the frontdoor for the Restaurant. He followed the road under the window and Madeleine would have had a reason to jump onto the sofa to see him leaving.